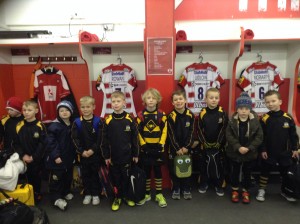 On 27th February Tewkesbury U7's went to Gloucester Rugby Club for a tour of their club and a bit of coaching from the professionals.
We visited the changing rooms where all the big game plans take place and we saw all the players rugby kits hung up, nice and clean ready for the players.
Just before the game started we did a pitch parade with all the fans cheering and then we made a tunnel for the players to run out on to the pitch.
We then watched Gloucester beat Newcastle Falcons 32-6.
The kids had an amazing time and were totally mesmerised by the whole experience.