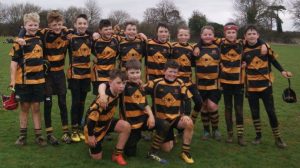 Sunday saw the Under 12's heading down to Tetbury for the GRFU Waterfall cup match that had been postponed previously. Team met down in Tetbury and set about a good warm up ready for kick off at 11, some good hits going on during the warm up suggested their was a big appetite for the game ahead. Tewkes kicked off and chased their own kick well, turning over ball and getting good field position, good break down skills and hands from Adam F got Matthew D into space and over for first try of the day. Tewkes then received and ran the ball back hard, setting up a good ruck and then moving the ball quickly into hands for another attack and successful try. Tewkes continued the good start to run in 9 tries in first half and keeping Tetbury from scoring.
Second half brought a change of ends and meant Tewkes now playing up the slope, and it was a slope, but they carried on the good skills on show, rucking and mauling hard before releasing play to each side and gaining good ground. Tetbury fought back and scored 2 very good tries of their own with some superb individual skills on show.
Fave try came late in second half with a good break from Max V from inside own 22, strong ruck fed Matthew D and onto Ollie T, before being brought down short of line, forwards drove over with a good clear out and some good pick and drive took us to within 3 meters. Heads up rugby from Shay and Adam got the ball out of the contact area and onto to Reuben who fed Aaron and a strong run to the opposite corner. Total rugby on show from a very motivated team who worked hard to apply some good techniques with the whole team involved to score a great try!
Tewkes ran out 14 : 2 winners, thank you to Tetbury for being so welcoming and playing the game in great spirit all the way through. Good luck to Tetbury for the rest of the season….