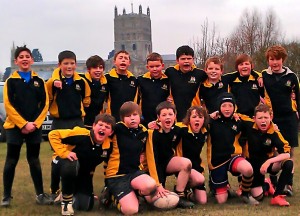 It was great to see an increase in numbers of the under 12's team, we had a full 15 players in our squad, giving us 2 subs for the game against Chosen Hill. Congratulations to the core of the U12 's squad that have stuck with the team over the last few years whilst numbers were low.
Lewis Taylor was the chosen as captain for this game and Chosen Hill took an early lead as Tewkesbury were still pulling up their socks. The Tigers were still asleep as Chosen ran in another try. A few of the Tewkesbury players were playing out of their normal position and it showed. At half time we were down 27 points.
The 2nd half saw a different Tewkesbury side as, 2 players from either side swapped shirts. A quick break saw the ball popped to Max Rendell and he ran from our 22 with a pack of Chosen Hill players chasing. They could not keep up with his pace and scored under the posts and it was converted bring the score to 7 – 27.  One of the Chosen Hill players who was playing for Tewkesbury smashed his way through the Chosen defence to score for Tewkesbury 12 – 27. Towards the end of the 2nd half Max Rendell ran in two more converted trys. Bringing the full time score Tewkesbury 26 v 27 Chosen Hill.
We would like to thank Paddy (Chosen Hill Coach) for refereeing and his team for fair play and sportsmanship. Its what Sunday mornings were made for!
Man of the Match was William, for his vision and being at the right place at the right time, congratulations.
[post_list name="simpleAttachmentList_10-U12″]