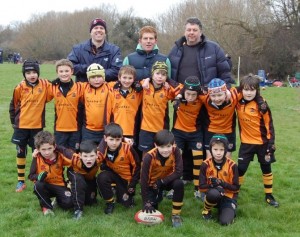 On a very cold, but dry 24th February 2013, the Under 9's took part in the GRFU County Cup at Chosen Hill FP RFC.
Clifton 10 – 0 Tewkesbury
Tewkesbury 2013 campaign got off to a very slow start as the players heads seemed to still be in the clouds. captain Charlie Kendrick won the toss and decided this time to kick off. Joe Goodridge took the ball from kick off and drove into the Clifton players with a little support from his sleepy team mates only to have the ball ripped off him and the Clifton player charge down the blind side and score an unopposed try. I would like to say that this woke Tewkesbury up, but I cant, they did how ever tackle very well and drove the Clifton players back for the rest of the half but failed to compete for the ball once they had. The high light of the half was seeing the smallest Tewkesbury player on the field Ellis Todd smash and I mean smash, Clifton biggest player, which resulted in him going off and rest. The second half was no better than the first half , even with Tewkesbury putting on replacements and trying to spark the team into some sort of life, Clifton did manage to score one more try before the end of the game and to be fair played very well , but it must be said Tewkesbury on their day or even awake would have given them a better game and won.
Painswick 0 – 15 Tewkesbury
This was a must win game and after some home truths and a bit of a foot up there back sides Tewkesbury woke up and played like they actually wanted to be there. from the off Tewkesbury went at the Painswick team with there usually ferocity, they attacked and challenged for every ball on the floor and drove Painswick back when ever they won the ball, it took some time to grind Painswick down as they too put every effort into their game but eventually had to succumb to Tewkesbury's relentless pressure, Tyler Martin picked the ball up from the base of a ruck and drove over the line for the first score of the game and the end of the first half .
the second half started just has the first half had finished with Tewkesbury attacking from the off. All the players had now woken up and where starting to enjoy it and make some big hits on there opposition and some decisive runs up the field , this resulted in Painswick conceding a penalty on the half way line for holding onto the ball on the floor whilst under extreme pressure from the ever present Sam Williams, Harry Ashmede, Joe Goodridge and Charlie Kendrick. Quick thinking Charlie Kendrick took a quick tap penalty and shot off down the field catching Painswick flat footed to score Tewkesbury's second try and thus giving them some breathing space. Tewkesbury could now relax a little and start to play some nice rugby. Miles Rendell came on and made ground when ever he got the ball Jack Cordell co-ordinated the line outs and scrums, Painswick how ever made a final attempt to get back into the game and came at Tewkesbury with all they could only to have the ball ripped off them by Saun Collins who then shipped the ball to Brandon Llewellyn, who then showed some blistering pace to go around the opposition and jog into round off the game and make it 15-0 to Tewkesbury.
Ross-on-Wye 0 – 25 Tewkesbury
This was now a make or break game if we lost we would be going home and Tewkesbury was in no mood to do that. They played as though there lives depended on it. Ross conceded an early penalty and the now full of beans and cocky Charlie Kendrick took full advantage of the ref to tap and go to score his second try of the tournament and kick start Tewkesbury's charge forward to the quarter finals. Ross still suffering from Tewkesbury's driving play and all round attack conceded another penalty for holding on again as Tewkesbury tried to pick and drive as they drove over the top of the Ross player, once again team captain Charlie Kendrick ceased his opportunity and tapped and went again with a quick penalty catching Ross napping again to score his second of the game. Kick off saw Ross turn over the ball deep in Tewkesbury's half and see the Tewkesbury players ship the ball out wide to there flying player Brandon Llewellyn who was now on fire as he sped past the Ross defence to score a well worked team try and give Tewkesbury a comfortable half time lead .
The second half saw Tewkesbury on top form and playing like champions big runs from Mason Rendell, Harvey Maycock helped Tewkesbury march on with Joe Goodridge now playing like a true forward and revelling in the challenge he picked up the ball from a ruck and drove through a gap dragging two or three Ross players with him only to have the vision to spot the ever present Charlie Kendrick on his shoulder and pop him the ball for him to go over for his third try of the game. Ross were now on the rack and with Tewkesbury in full flow, nothing could stop them adding to there tally and a player who had ran his heart out and put him self about popped up to round off the scoring with a nice try of his own Sam Williams.
Longlevens 5 – 5 Tewkesbury
After a lengthy cold wait (2hrs) the quarter finals had started, this how ever did not hinder a well up for it Tewkesbury side who from the off took the game to Longlevens, only a great display in defence and silly mistakes stopped Tewkesbury scoring as time after time they went at the Longlevens try line. This continued for most of the first half, but against the run of play Longlevens managed to ship the ball out wide to there quick player who shrugged off a Tewkesbury attempted tackle to run the length of the field to score a try and end the first half.
The second half saw Tewkesbury make a few changes, this did not change there shape or stop them attacking with all they had left. This time though after some good pick and drives from Tewkesbury, Longlevens failed to stop Charlie Kendrick from finding a gap and going in to the corner to equalise. Now Tewkesbury really turned on the pressure and with time running out shipped the ball out wide after driving Longlevens off the ball to Brendon Llewellyn who shot up the line only to be denied a try by a last ditched tackle. this though was deemed to be a high tackle and Tewkesbury was awarded a penalty, the crowd held there breath as Tewkesbury had one last attempt to score, Charlie Kendrick on the ball, a massive run, a side step, a dive and a stretch for the line, so close inches away,  but Longlevens scrambled across the field and just managed to keep him from scoring. Well done Longlevens and good luck in the finals as they went through on try difference .
All the players can hold there heads up high Ethan Whybrow, Mason Rendell, Miles Rendell, Jack Cordell, Tyler Martin, Brendon Llewellyn, Harvey Maycock, Harry Ashmede, Saun Collins, Joe Goodridge, Sam Williams (most tackles made), Ellis Todd (biggest tackle/hit), Charlie Kendrick (top try scorer). They all played like champions and can be proud of there achievement.
[nggallery id=11 template=compact]