Tewkesbury Tigers, the junior section of Tewkesbury Rugby Football Club, honoured longstanding coach Martin Thomas at their end of season presentation evening.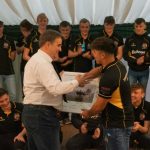 Martin, who played for Gloucester Old Boys in his youth, was persuaded to take the role of coach to the U7s team in 2007 when his eldest son joined the team. Over the years Martin has embraced his role with vigour and passion and has led the team successfully for 10 years, culminating in the 2017/18 season. U16s captain, Jack Brinn, thanked Martin, describing him as a father figure to the team and presented him with a signed team photo.
Martin's enthusiasm for coaching has led him to also take on the role of assistant coach to the senior Tewkesbury RFC teams as well as coaching with Gloucester's Developing Player Program. He is also planning to remain with the Tigers to provide support to the younger teams and junior coaches.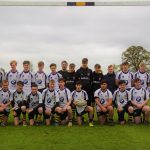 Although this was the U16s last season as Tewkesbury Tigers many of the boys hope to continue playing as part of a newly formed Colts team in conjunction with other local clubs. Colts consist of players who are 16 or 17 transitioning from junior to senior rugby.
Three members of the U16 team, Samuel Thomas, Jack Brinn and Will Gamble, have also been selected by Gloucester to continue on their pathway of developing players and will be training with the U17s next season.
Tewkesbury RFC has an active junior section with teams from U7 to U16 as well as Girls, Ladies and Senior men teams. If you would like further information on any section, or the newly formed Colts, please contact Nick Smith, contact@tewkesburytigers.co.uk