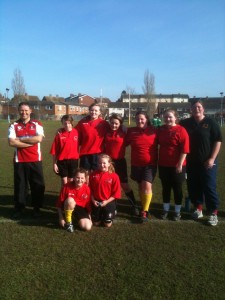 On an extremely hot sunday afternoon our girls U13s team had their very first game.
We were hosting our local derby against Drybrook.
The girls are all new to the game on both sides, although they did not show it on the pitch.
Things started very quickly and a fantastic run from Charlotte (basher) saw Tewkesbury take the first points and also our 1st U13s try.
A fast response from Drybrook saw the scores levelled with a remarkable run.
Tewkesbury then ran back at the visitors but great tackling stop us short of the line.
Drybrook then took the lead with 2 more fantastic runs both resulting in tries.
In the dying seconds of the game Lottie Simon made a great break and scored her first try.
Final score 10-15 loss
Man of the match was Rebecca (popeye) Pope for an amazing display of tackling.
Straight after it was time for the U15s to play.
Things kicked of quickly and tackles were aplenty. All the girls were up for this game.
First points came to tewkesbury with a fantastic run from second row Kayleigh.
Drybrook answered back quickly and levelled the score.
Then Drybrook broke through some weak tackling from tewkesbury and took the lead.
Tewkesbury regrouped and a great offload saw number 8 Emily (frizzy) Crawford run in our 2nd.
The visitors then ran a quick break up the touch line and again took the lead.
The girls were all putting in heavy tackles and each side had casualties (none serious) but they kept battling, impressing the crowds of supporters on both sides.
The forwards started to get the rucks sorted late in the second half and another great run from kayleigh saw us level the score.
Final score 15-15 draw
Man of the match was Ellen (Alan) Wells for 110% effort and amazing tackles all through the game.
It was a great day of rugby and was enjoyed by all.