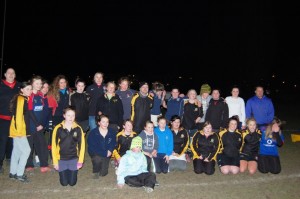 On February 1st Tewkesbury u15's Girls were treated to a visit by former women's England captain Catherine Spencer.
It was a freezing night but we had a maximum number of girls training and all enjoyed having a star joining in their training session.
The session was fast paced to keep the girls warm and the all showed off what they had learnt.
Catherine even took time to sign balls shirts and pose for photos.
Below in an email from Catherine sent to Mike Timbrell the GRFU representative
HI Mike
I just wanted to pop you an email to let you know that I paid a visit to Tewkesbury this week. Despite the freezing conditions there was a great turnout of girls training – I did not count but must have been about 25. Their numbers have rocketed since Tewkesbury and Glos Reds joined forces at U15. They have played a number of U15's fixtures and are due to play their first U13's game soon.
I was really impressed by the session, Roger and Mervyn have obviously done a great job and have good parental support. There is potential to start an U18's side next season which will help to boost numbers moving in to the ladies senior team.
Kind Regards
Spence